Gingerbread
Posted on

June 21, 2019

in 1st Grade, 2nd Grade, ARt, Coloring, common core, Fine Motor Skills, Fun Themes For classroom, Holidays, home school, Instagram, Kindergarten, Math, Pre-K, School, Teacher, teachers, TPT
GINGERBREAD THEMED KID ACTIVITES
It is the little things that kids notice and remember. The finer details about how you wore your hair or your funny shoes. Something that may seem silly or no big deal to a teacher may mean the world to a child or even a parent. Everyone notices the little things. Even when they don't they do. The whole experience is more fun. Someone may not be able to tell you why – they just know.
FIND THE GINGERBREAD
DOWNLOAD OUR FREEBIE _Hide_the_Gingerbread_color
DOWNLOAD OUR FREEBIE Hide_the_Gingerbread_BW
FUN MORNING ACTIVITY!
Print out the GINGERBREAD and cut them out. Hide the gingerbread cutout throughout the room. Prepare the kids the day before that they will have a fun activity for the morning! When they enter the room they will each be assigned a certain area of the room to find the gingerbread. Another option is to send them in groups of 5 and each one has to find 1-2 GINGERBREAD (depending on how many you cut out).
If you are sending out 1-3 kids in your home. You can cut out multiple GINGERBREAD!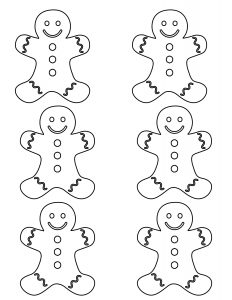 FUN BRAIN/VISION ACTIVITY!
A great exercise for the brain and vision is to hold the child facing outward into the room and then turn them in a circle 2-3xs and have them visually look for the GINGERBREAD. The GINGERBREAD need to be placed in throughout the room but not hidden.
Sing the GINGERBREAD MAN SONG
Create GINGERBREAD Paper Plates
Create GINGERBREAD POM POMS
Make Gingerbread houses.
Double check to make sure if any child has an allergy. If so, there are many alternatives. You can use gluten free graham crackers.
Wear a Gingerbread Hat or Headband.
Find the silly in yourself and get excited about the theme.
Wear a Gingerbread Jewelry!
Try earring, necklaces, a bracelet, funky socks or anything that can get your kids excited to learn!
Gingerbread Slime Activity
Use slime as you would dough. Just get some cute cookie cutters. Check out our slime recipe here: http://kudoz4kidz.com/wordpress/slime/
Roll it out flat and imprint the cookie cutters into the slime. You can make an imprint design and/or cut it out as you would to prepare a cookie. It is a helpful fine motor activity.
Do reindeer, hearts, snowmen and more. The slime we used is in the video below.
Our Slime recipe – no borax, no artificial dyes
Create GINGERBREAD Paper Plates
The Gingerbread Girl

Hardcover

by
Gingerbread Christmas by
Gingerbread Baby and his friend, Matti, take his gingerbread band to the Christmas Festival where they are a hit until the aroma of gingerbread reaches the children, signaling that it is time to run away. You will adore this book. It's a cute story with creative pics likes all her other books. Kids love the ginger bread baby and his adventures and this book is just as great as the first two!
The Gingerbread Man Loose on the Fire Truck Kindle Edition by
How do you make a gingerbread man's bed?

With a cookie sheet.
What did the gingerbread man say at his job interview?

I just really feel like I'm cut out for this position!
Why didn't the gingerbread man show up for work??
What do you call someone who steals Gingerbread Men?
A: A crook-ie.
What did the Gingerbread Man put under his blanket?
Why did the basketball player love gingerbread cookies so much?