Flamingo Themed Kid Activities🌴❤️💗
Posted on

June 30, 2019

in 1st Grade, 2nd Grade, Coloring, Crafts, Fun Themes For classroom, Holidays, home school, Instagram, Kindergarten, Manners, Math, Meditation for kids, Pre-K, School, Teacher, teachers, themed kid activities, TPT, tshirt
FLAMINGO THEMED KID ACTIVITES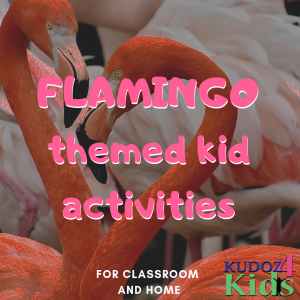 WHO DOESN'T LOVE FLAMINGOS??? It's fun to start off this theme at the beginning of the week. Ask everyone what they can uncover about FLAMINGOS. Give them detective journals to write in or color in and log information about FLAMINGOS and most of all have fun!
START WITH A FLAMINGO BALANCING ACTIVITY! HAVE EVERYONE BALANCE ON ONE LEG. LET THE DETECTIVES FIGURE OUT WHY FLAMINGOS ARE OFTEN STANDING ON ONE LEG.
It is the little things that kids notice and remember. The finer details about how you wore your hair or your funny shoes. Something that may seem silly or no big deal to a teacher may mean the world to a child or even a parent. Everyone notices the little things. Even when they don't they do. The whole experience is more fun. Someone may not be able to tell you why – they just know.
DO A FLAMINGO SELF- PORTRAIT
DOWNLOAD THE KUDOZ4KIDZ FREEBIE!
DOWNLOAD OUR FREEBIE COLOR
My_FLamingo_Self_Potrait_KUDOZ4KIDS
DOWNLOAD OUR FREEBIE BW
My_FLamingo_Self_Potrait_KUDOZ4KIDS_BW
FUN ICE BREAKER OR BEGINNING FOR THE SCHOOL YEAR ACTIVITY!
FUN ACTIVITY TO DO WITH PLAY DATE FRIENDS TO GET TO KNOW THEM BETTER!
FUN ACTIVITY TO DO WITH PARENTS/CAREGIVERS AND KIDS TO GET TO KNOW YOUR KIDS BETTER AND FOR YOUR KIDS TO GET TO KNOW YOU BETTER!
TEACHERS, PARENTS, CAREGIVERS – DO A FLAMINGO SELF-POTRAIT TOO! KIDS LOVE TO SEE WHAT YOU DO!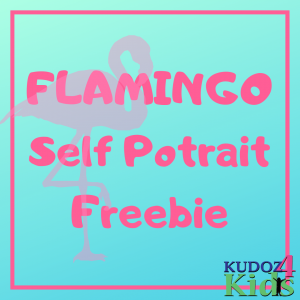 CHECK OUT OTHER THEMES...
GET TROPICAL!
Sing/Listen to PUT THE LIME IN THE COCONUT
SHAKE! SHAKE! SHAKE!
Sing/Listen to JUMP IN THE LINE!
Create paper origami paper FLAMINGO
Do a Sunshine Meditation!
Shine like a flamingo basking in the Sun.
Find the silly in yourself and get excited about the theme.
Wear a FLAMINGO Jewelry!
Try earrings, necklaces, a bracelet, funky socks or anything that can get your kids excited to learn!
The kids really enjoyed this story. The artwork is beautiful and the story has a good message. You follow Sylvie, the flamingo, as she takes on physical aspects of those around based on what she eats. She figures out along the way that it's ok to embrace who you are, but can still add a little of your own pizzazz and let your own personality shine through. What a fun story for young kids to hear. And they learn how flamingos are pink!
Why are flamingos such good patients?

They're used to wading.
What do birds do for fun on weekends?

Play fla-bingo!
What soccer position do pink birds play?

Flamingoalie
What's the opposite of a flamingo?

A flamin-stop
Why did the flamingo need a bandaid?

It hurt it's pinky.
How did the flamingo avoid the bird catcher?

It stood still on a lawn with a plastic flamingo!
Which one of the Beatles was really a bird?

Flamingo Starr