BLOOMING GARDEN:  AFFIRMATIONS AND LAW OF ATTRACTION MEDITATION FOR KIDS
Posted on

September 2, 2019

in 1st Grade, 2nd Grade, 3rd Grade, 4th Grade, 5th Grade, Affirmations, home school, Inspiration, Instagram, Kindergarten, Meditation for kids, YouTube Video
#kudoz4kids#kudoz4kidz#lawofattraction
BLOOMING GARDEN: AFFIRMATIONS AND LAW OF ATTRACTION MEDITATION FOR KIDS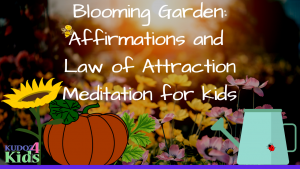 This is a nice video to incorporate when doing school gardening activities— When it's time to plant seeds, a little garden or grow flowers – use this video. Teach children about planting seeds of laughter, seeds of creativity, seeds of kindness with children success affirmations meditation.
Motivate kids and teens with mindfulness and positive affirmations!
Teach kids how to apply the law of attraction in their lives.
HOW DOES SOMETHING BLOOM IN YOUR LIFE?
Law of attraction for kids.
Rebekah uses the GARDEN METAPHOR to teach how seeds grow and how we manifest in our lives. .
Bookmark and use again and again
Meditation starts at .10—- Fast Forward to it if you prefer
Use this video:
-Monday morning
-When teaching a new lesson
-After an activity when kids need to reset
-A nice children's visualization to start a day
-Classroom Meditation Corner

-growth mindset activity
-An inspiration / motivational rant
-KIDSPIRATION!
-Inspire kids
♥ SUBSCRIBE TO KUDOZ4KIDS (Empower kids and help them find their authenticity)
♥F A C E B O O K:
https://www.facebook.com/kudoz4kids
♥T W I T T E R:
Tweets by Kudoz4kids
Kudoz4kids
@Kudoz4kids
♥SUBSCRIBE! Hit the bell for notifications!
♥ Help Support This Channel
Like Us
---
#healthymindset#mindfulnessmeditation#mindfulnessmatters#selfdevelopments#growthmindset#yogamom
#yogafam#backtoschool#dreambigorgohome#mindsetquotes#gottastayfocused
Related Videos:
Positive Affirmations for School Kids Meditation – New Day at School Theme
https://youtu.be/WGF9SNzI524
——–
© Copyright 2018 KUDOZ4KIDZ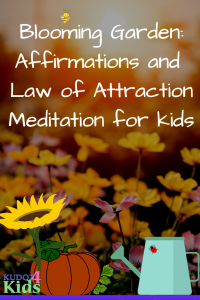 This content is strictly the opinion of Rebekah Aramini Lupo and Kudoz4kidz and is for informational and educational purposes only. It is not intended to provide medical advice or to take the place of medical advice or treatment from a personal physician. All viewers of this content are advised to consult their doctors or qualified health professionals regarding specific health questions or beginning and exercise program. Neither Rebekah Aramini Lupo, Body Illumination, nor the publisher of this content take responsibility for possible health consequences of any person or persons reading or following the information in this educational content. All viewers of this content, especially those taking prescription or over-the-counter medications, should consult their physicians before beginning any exercise nutrition, supplement or lifestyle program.
NAMASTE' Design – As shown in the YOUTUBE VIDEO (adult and kid sizes available, many colors):