TEACHING MANNERS CAN BE FUN!
Posted on

October 10, 2018

in 1st Grade, 2nd Grade, 3rd Grade, 4th Grade, Character Building, common core, home school, Inspiration, Instagram, Kindergarten, Manners, Pre-K, School, Teacher, teachers, TPT
GOOD MANNERS...Let's talk about MANNERS, MANNERS, MANNNERS
This a FUN way to review and teach manners! Some gentle reminders. Games and more.
It is great for little ones or great review for any age with some little tweaks!
Manner Boards are nice for back-to-school, hallways or transitional areas. It is also nice to post at home on the fridge, cork boards or cabinets.
This lesson plan has opportunities for Role-playing/Improv. There is an eating – lunch and snack time game with an opportunity for a "Picnic" in class with the cut-outs. You can review many manners with this activity.
The class can take home a checklist of skills to practice at home. Then the classmates may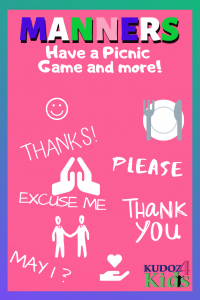 receive an award to acknowledge their hard work. ——It is a GREAT opportunity to include in their TAKE HOME for homework!
There are ribbon awards – keep them in your top drawer, all copied and cut, so they are accessible. Hand them out for positive reinforcement and the unexpected manners as you notice.
Include the Please, Sorry, Excuse Me and Thank You Signs with the reminder cards and create one big board or 2-3 mini boards throughout the classroom.
Then the student awards may be added to the boards! It is a cute way to get everyone involved.
Workshop the manners with an improv. And pass-out the response cards. Give everyone an award on the board depending upon their response cards that they use in the lesson.
Praise everyone individually and within the groups. They all are working hard.
Please download the preview to checkout a sample.
MANNERS. Let's start talking about Manners.
It is a PDF.
There are 50 pages total.
There are 25 pages plus 25 pages in grayscale.
Contents:
4 Pages of lesson review/directions/examples
2 Pages Good Manner Checklists to practice
4 Pages of Picnic Lesson Plan Cutouts for Snack/Lunch Manners Improv Lesson Plan
2 Pages of Cutout Response Cards for Lesson Plan Games (8 Cards)
1 Page of Good Manners Review Sheet
1 Page of Good Manners Acknowledgment award (6 total)
1 Page of Good Manners Ribbons (8 total) Praise for Unexpected or improv lesson
6 Pages (24 total) of Manner Reminders for Classroom Boards and décor
4 Pages of Manner Signs for Classroom Boards and décor
ENTIRE PACKAGE IN GRAYSCALE
FIND OUT WHAT IS NEW: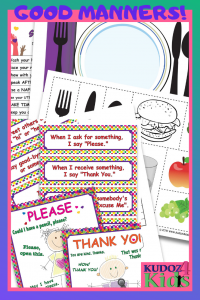 BECOME A KUDOZ4KIDS FOLLOWER!
Thanks so much for your interest and consideration!
GET CREDIT TOWARDS FUTURE PURCHASES!
Go to your My Purchases page. Next to each purchase you will see a "Provide Feedback" button in the Teachers Pay Teacher site. Click on that button and it will take you to a page where you can leave a rating and a comment about the product.
Every time you provide feedback, you will earn TPT credits. These can be applied to future purchases to save you money! Very cool!
PDF (Acrobat) Document File
Be sure that you have an application to open this file type before downloading and/or purchasing.